Happy Employees create Happy Customers
How do you ensure your company structure and culture nurtures your people, as much as your customers? We all talk a lot about customer experience (CX), but it's all too easy for fast-growing companies to forget about their employee experience (EX). At Disruptive, we believe that a happy employee leads to a happy customer.
There's no one size fits all when it comes to organisational design, as you have to find what works for your business; however, alongside your company growth goals and structure there must always be a human centred focus.
The loyalty, engagement and retention of your employees will become as key during those fast growth years as that of your customer. Rapid scale or adoption of digital comes with organisational wide change, the need to embrace empathy and a continuous learning mindset. Creating amazing digital customer experiences begins with understanding your customer journey and the employee experience that supports it - hence our mantra 'EX makes the CX'.
So, how can you focus on your employee experience and make sure your team thrives while helping your company to achieve sustainable growth?
Listening to your employees makes happier customers
Your employees are most likely on the front line of delivering to your customers so it's vital that management understand their experience (EX) so as to better understand your customer experience (CX). Finding out what challenges your employees face on a day to day basis will most likely highlight an area where your customers also have frustrations. Having clear communication, regular feedback and brainstorming sessions with your team could reveal quick fixes for your customers. For example, you could find out that certain employees need to be empowered to solve particular customer issues which have been causing complaints on both sides.
Elizabeth Baskin, CEO and Executive Creative Director of Tribe, Inc specifies that it's a logical chain of events;
"If you listen to the Voice of the Employee, and improve the EX, then you're more likely to hear from the Voice of the Customer that you've created a better CX."
HBR reported that in 2014, Michael Callahan, then head of customer experience at Hulu, and his team created and linked an employee feedback system to its customer feedback system. This was so Hulu could flag interactions where customers and employees had different perceptions.
Customers were asked:
Was your problem solved?
Are we easy to work with?
Did you enjoy the experience you just had?
Employees were asked:
Did you solve the problem?
Was it easy to access the tools and resources you needed to solve the problem?
Did you feel proud to represent our brand in the conversation?
This resulted in executives adjusting the compensation plan: customer service representatives received a retention bonus only if they remained a subscriber 30 days after an interaction.
Companies rarely link their employee and customer surveys and this is definitely a missed opportunity. The Medallia Institute survey found that 56% of frontline employees said they have suggestions for improving company practices, and 43% said their insights could reduce company costs. However, a third said they were surveyed once a year or less, and more than half said employers weren't asking the right questions.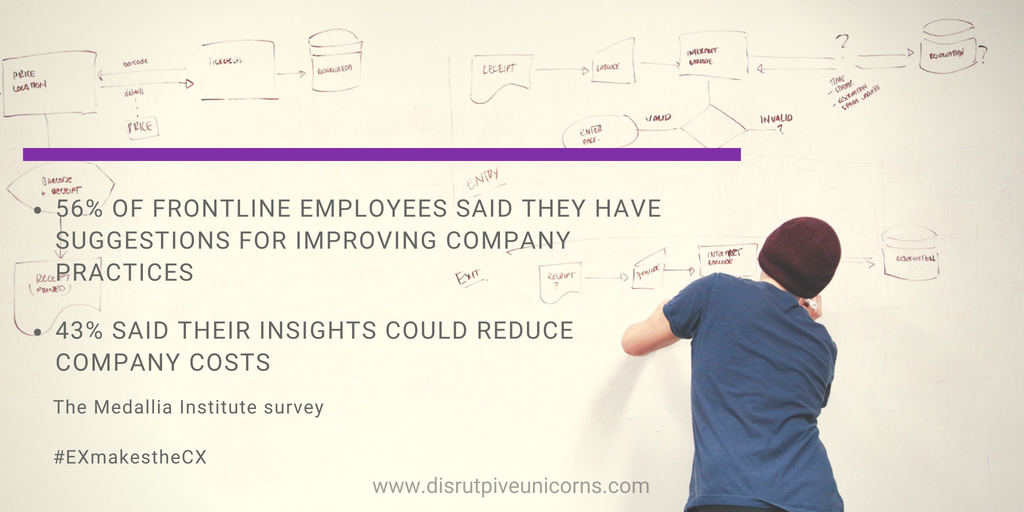 Mindfulness and emotional intelligence
We believe in embracing new ways of working, so earlier this year we ran an event with guest speaker Jacki Rowles who presented an overview of the Google Search Inside Yourself Program (SIY). With all the change in how organisations are formed and grow it's clear that a new modern leadership skillset is required. The SIY programme was born at Google from one engineer's dream to change the world. It began in 2007 when veteran engineer Chade-Meng Tan assembled leading experts in mindfulness, neuroscience and emotional intelligence to develop an internal course for his fellow Googlers. It quickly became an incredibly popular training program and interest outside Google was so great that the Search Inside Yourself Leadership Institute (SIYLI) was established in 2012 as an independent non-profit organization.
As we discussed in Chapter 1 - An Introduction to Growth Marketing, fewer resources and smaller budgets have meant that Growth Hackers/Growth Marketers must use out of the box thinking to conquer competitive markets in a low cost way. Your ideas, decisions, strategy and metrics must all be informed by growth. You need resilience, stamina and a strong and loyal team to make it through this early growth phase. Therefore, as a leader, you have a responsibility to ensure that you not only understand yourself but you're also able to empathise with others in order to influence people around you in a deliberate, effective and compassionate way.
Training leaders and organisations about mindfulness-based emotional intelligence develops a clear understanding of what it's like to balance high performance with employee well-being, which in turn impacts on engagement, productivity and turnover.
Key takeaways
Ensuring you provide an open and healthy environment for your employees to provide feedback and contribute to your success is vital to your company growth. As we've discussed, listening is the first step to better EX, engagement and retention, which ultimately results in improved CX.
Here are some simple actions that management teams can implement
Regular quarterly employee surveys and feedback forums
Provide autonomy to let employees shape their roles
Train management in mindfulness-based emotional intelligence
Connect your customer and employee feedback and action your findings
Talk to us about your tailored customer advertising success plan HERE